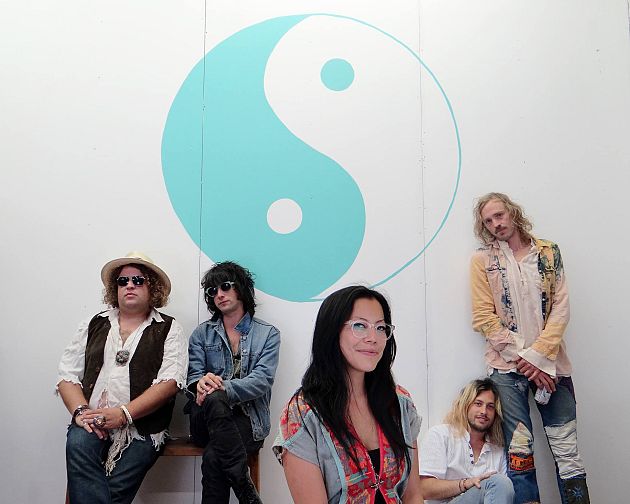 About
Needle Points is a psych-boogie outfit from Philadelphia formed in 2013. Their music, largely influenced by sixties and seventies vibes, is what punk music would have been if Keith Richards invented it.
Needle Points' first release Bom Tugangu (2013), intended as a collection of 4-track basement demos to book shows with, was met with acclaim locally and even internationally. The album, along with their raucous, face-painted, animal suited, hair-for-days live shows, led them to a record deal with indie label PaperCup Music in 2014. With the label, they released a 7-inch for "Cripple Street" a song that has since been picked up for use by Converse for showroom play.
In the fall of 2014, Needle Points worked with Dr. Dog frontman Scott McMicken on their upcoming release Feel Young. McMicken produced the album and lent his talents as a second guitar player and keyboardist to several tracks. The band decided to leave PaperCup earlier this year and form their own label NeedLove Records on which they'll release Feel Young.
Needle Points, a band of artists, have also worked hard to develop a marketable aesthetic. Everything they have done and worn since their formation in 2013 has been meticulously curated. Their psychedelic taste and party vibe has helped them develop a loyal social media following, notably in their more than 12,000 Instagram followers. The band members have also always designed and created their own merchandise. Their talents were recently validated when Philadelphia based clothier Free People purchased one of their t-shirt designs. The company will be releasing their Needle Points shirt in department stores and boutiques nationwide this summer. Free People also cited Needle Points as their "favorite band" in a 2015 blog post, and used their track "Needlove (City Walls)" in a YouTube commercial featuring model Alena Blohm. Other brands such as Billabong and Marc Jacobs have also featured Needle Points songs in their work.
Needle Points have toured the east coast twice, including shows at Delaware's Firefly Music Festival and Georgia's Savannah Stopover Festival. They have supported bands such as Temples, Dead Meadow, Fat White Family, Sun Club, Spank Rock, CRUISR, Clap Your Hands Say Yeah, and many more. They will be joining Spaceface, fronted by the guitarist of the Flaming Lips, on a leg of their tour this July and will be joining indie rock favorites mewithoutYou for a month-long, national tour this October to support their upcoming release.